Businesses these days are switching to Voice over Internet Protocol, or VoIP for short, and it's easy to see why. VoIP is flexible, can save money, and often comes with better help when you need it. If you're selling VoIP services, you're in a great spot because so many companies want it. So, how do you get these businesses to notice you and buy from you? Don't worry, we're here to share some straightforward tips to help you do just that. Let's dive in!
Here are 12 proven strategies to find clients for your VoIP reseller business:
1. Understand Your Target Market
To find your target market, ask yourself these questions:
Are you targeting small businesses, large corporations, or individual entrepreneurs? Where are they located – in a crowded city, suburbs, or rural area?
Do I want to target businesses that are completely remote or only partially?
What specific VoIP features are they looking for?
Are there businesses in sectors where data security and compliance are crucial, such as finance or healthcare?
What security features would be most appealing to them?
Are they looking for long-term contracts, or do they prefer a more flexible month-to-month arrangement?
Each segment will have different needs, and you should tailor your offerings and marketing tactics accordingly.
2. Build a Robust Online Presence
A strong online presence is non-negotiable. Here's how you can optimize it:
Website: Build a user-friendly, mobile-optimized, fast loading website that clearly explains your offerings, their benefits, and showcases client testimonials.
Search Engine Optimization (SEO): Regularly publish relevant blog posts about VoIP technology, its advantages, and other related topics to improve your website's search engine ranking.
Social Media: Use platforms like LinkedIn, Twitter, and Facebook to engage with potential clients. Share articles, client success stories, and industry news.
3. Leverage Content Marketing
If you want people to see you as a go-to expert in the VoIP world, you've got to share your knowledge. Think about making easy-to-read guides or even fun visuals that explain why VoIP is great. You could make a downloadable guide or a cool picture chart that talks about how VoIP can save money. Sharing real stories of businesses that switched to VoIP and loved it can also help. When people see all this, they'll trust you more and might just come to you when they need VoIP services.
4. Offer Demos and Free Trials
Providing a firsthand experience can make a difference when promoting a product. Consider offering demonstrations or short-term trials to potential clients. This allows them to directly understand the value of VoIP, making it easier for them to recognize its benefits and potentially commit to the service.
5. Attend Industry Trade Shows
Participate in telecom or IT-related trade to show how your VoIP service can provide them uninterrupted communication. Use these events to network, give product demonstrations, and gain insights into industry trends.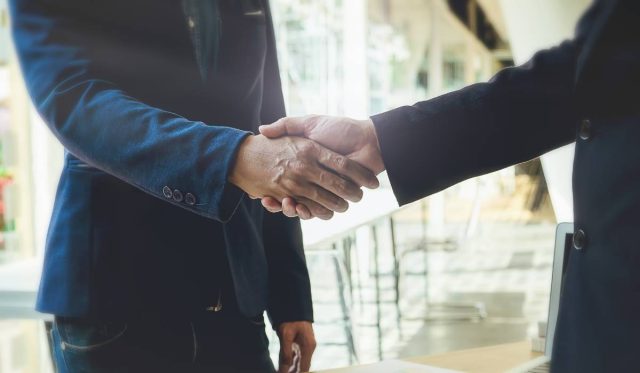 6. Form Strategic Partnerships
Building partnerships with businesses that are related but don't provide VoIP can be beneficial. For example, teaming up with IT consultants or agencies that help companies go digital can be smart. They don't offer VoIP, but their clients might need it. By partnering, they can recommend your services, or you could even create joint offers. This way, you can reach more potential customers.
7. Utilize Email Marketing
Email remains a powerful tool for B2B communication. Regularly send newsletters with updates, special promotions, and valuable content. However, ensure that your emails offer value and aren't overly salesy to maintain a positive brand image.
8. Request Testimonials and Referrals
Happy clients can be your best promoters:
Testimonials: Request satisfied clients to provide testimonials which can be showcased on your website and marketing materials.
Referral Program: Offer incentives to clients who refer others to your services.
9. Advertise Strategically
Depending on your budget, you can engage in pay-per-click (PPC) advertising on platforms like Google Ads. It lets you pay only when someone clicks on your ad. Another good place to advertise is LinkedIn, especially if you want to reach professionals in certain fields. With LinkedIn's sponsored content, you can put your ad right in front of the people you want to reach.
10. Stay Informed on Industry Trends
VoIP technology is rapidly evolving. By staying updated with the latest trends and incorporating them into your offerings, you can provide more value to your clients and maintain a competitive edge. Some new technologies that VoIP resellers can consider include video conferencing enhancements, AI-powered voice assistants, better encryption for security, and integrations with other business tools.
11. Offer Excellent Customer Support
Post-sales support is often as crucial as the initial sale. Always be accessible by ensuring your team is available for client queries or technical issues. Regular training helps support staff stay updated on the latest VoIP trends and troubleshooting techniques. Consider hosting webinars or Q&A sessions to address common concerns. Actively seek feedback by using surveys or direct interactions to gather insights about your service quality.
12. Educate with Webinars and Workshops
Host webinars or workshops explaining the nuances of VoIP, its benefits, and its implementation strategies. Dive deep into the intricacies of VoIP, breaking down its features and advantages for your audience. Showcase real-world examples of how businesses have transformed their communication strategies using VoIP. You can also offer insights into effective implementation plans tailored to various business sizes and types.
Ready to elevate your business with top-tier VoIP solutions? Join the UC Simplified VoIP Reseller Program today and embark on a journey of unparalleled growth and success!